Operations
Craft Department
The Aluminum ship building business that started at the Craft Engineering Department of Tsuneishi Shipbuilding Co., Ltd. has achieved a track record of shipbuilding success of Aluminum alloy vessel through Kambara Kaiyo Kaihatsu K.K., Tsuneishi Forestry Construction Co., Ltd. and Tsuneishi Holdings Co.,Ltd.Tsuneishi Forestry Construction Company. For further expansion of the aluminum alloy ship business, Tsuneishi Facilities & Craft Co., Ltd. is building aluminum vessels that are safe,comfortable and offer a high degree of convenience to suit customer needs.
the aluminum alloy vessels building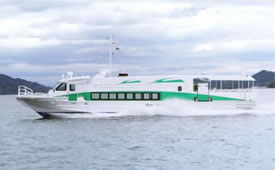 We produce 19 to 150GT capacity passenger boats for remote islands, customs boats、fisheries patrol boats、survey boats, pilot boats and escort boats for public or private users. We developed new catamaran passenger boat effectively equipped with anti-rolling device and are offering comfortable ships for trip.
the aluminum alloy block manufacturing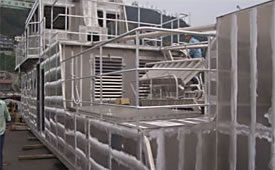 We manufacture Large Hull body blocks and Aluminum structures by using the facilities of New Craft Factory, furthermore, we are supporting a production of various fittings using ship building skills
Manufacturing of the diving boat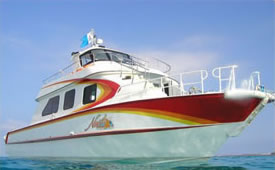 We manufacture and market FRP diving boat to Okinawa and around of Ishigaki. Specially, A hybrid structure diving boat which upper part is made of FRP from a deck made of aluminum alloy, receives favorite reception because it is a tough, waves-resistant structure and also wears well.
Plant Facilities
Lifeboat Department
Since lifeboats serve an important role in the lives of humans, we are meticulous when it comes to their quality control.
And to respond to users needs, we also perform periodic inspections and maintenance in accordance with IMO MSC/Circ. 1206 that went into effect on July 1, 2006.
Construction Department
General construction/office
Realization of comfortable and highly-functional spatial creation in pursuit of ideal business environment
For construction of various facilities, such as offices, not only functionality but also creation of spaces that offer comfort to workers are required.
We propose optimum plans and work toward creation of better spaces based on results and examination of conditions and requests related to your business lines and details of facilities.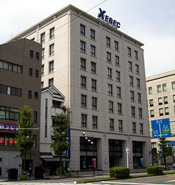 Production facilities/educational facilities
Extensive provision of effective solutions to realize business efficiency
We provide total solutions to realize your effective business through production facilities and educational facilities, etc., based on our accomplishments, know-how, and technologies.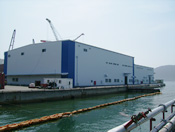 Commercial facilities
Support of diversification in reinvigoration of facilities through creation of sellable spaces
In consideration of the ability to pull in customers and harmonization with surrounding environments, we create attractive commercial spaces by making full use of our planning ability and technical capability.
■ What is the field of commercial environment?
Specialty shops, restaurants, large commercial facilities (department stores, GMS, and shopping centers), commercial complexes, financing and service shops, amusement facilities, hotels, etc.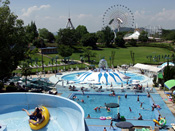 Housing facilities/general house
Provision of freely-designed houses that reflect users' needs to the greatest extent possible
We propose candidate sites and financial plans in consideration of your requests and community needs, and also totally support house-making while our designers confirm each process with you.
Not only do freely-designed houses respond to changes in family lifestyle, but also higher-ranked livability is provided in pursuit of balance between quality and price.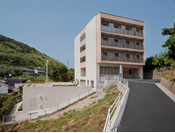 Creative design/design supervision
Aiming at creation of higher added value Practice of functional enhancement of the communication tool
We want to enhance the communication tool function for the purpose of providing better communication and dependable services in the chain of planning, designing and supervision of various facilities.
As part of this, we produce images visualized by using cutting-edge technology, and realize clearer and more reliable presentations.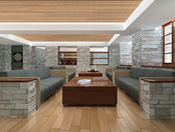 Overseas Construction Consulting
Ideal capital investment and infrastructure building for successful inroads into overseas markets
Based on over ten years of overseas construction consulting experience and know-how, we provide project management services to optimize location requirements, quality, cost, construction schedules, and much more.
In addition, the extended life cycle of facilities ultimately leads to total cost reductions.
Past consulting results
・1995 to 2008 Shipyard and related facilities construction project in Cebu, Phillipines
・Since 2003 Shipyard and related facilities construction project in Zhoushan, China
・Since Jan. 2011 Preparing for establishment of an overseas office in Paraguay, South America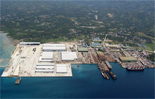 Others/Facilities maintenance management
For further comfort and safety….
We protect your asset values by maintaining and preserving your buildings and facilities.
Hoping that our efforts to consider the natural environment around facilities and improve the utilization value make owners and their customers happy, we are engaged in the preservation, maintenance, and management of various facilities.
In addition, the extended life cycle of facilities ultimately leads to total cost reductions.